FUNDAMENTALS OF BIOPHYSICS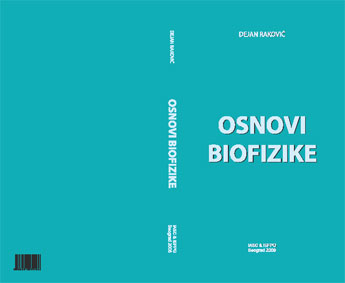 Lecturers
dr Dejan Raković
dr Miloš Vujisić
ms Koviljka Stanković
Status
Elective course
Semestar
Fall
Teaching methods
30 hours of lectures + 15 hours of supervised problem classes + 30 hours of seminars and demonstrations in other centres and laboratories, pre-exam by the end of semestre.
Approximately 75 hours of personal study and exercise (3 hours per week during semestre, and approximately 30 hours of preparation during exam term).
Contact
rakovicd@etf.bg.ac.rs
OBJECTIVE OF THE COURSE:
The course is based on modern theoretical physics and introduces students into the physics of living nature, on all levels: molecular, cellular, and over-cellular, including biosphere as a whole. During the course, students will be intoduced via seminars into some contemporary biophysical theoretical and experimental researches in other centers in Serbia.
WHY LISTENING THIS COURSE?
Fundamentals of Biophysics is the course which introduces students into dynamic development of biophysics in the second part of 20th century, which was not only of fundamental importance, but allowed a wide implementation, from the genetic to biomedical and ecological engineering.